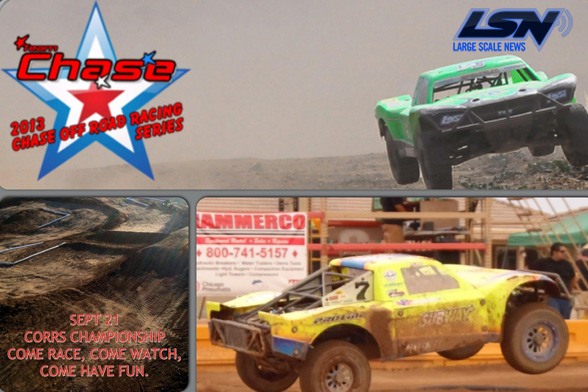 LSN on location at TeamChase Final Points Series Event Sept 21
We are excited to announce that Mark Hull of LSN will be attending the TeamChase Final Points Series Race on September 21st. We have heard so many great things about this event and we know the racers really enjoy this beautiful southern california large scale racing facility. Finally we will get to be on location and get some up to date images of the racing going on that Saturday.
Get the needed information on this event at www.TeamChase.com
Or join their club to get up to date race information and product news HERE
Follow TeamChase on FaceBook HERE
So if your one of the unlucky people who do not get to attend this event, please follow this post as we add image throughout the days leading up to the event and the days after it as well.
Track maintenance is being done this weekend. Here is a fresh picture of the track. You can tell Kevin has been BUSY!

Click this link to watch a movie of the track and a message from Kevin Chase himself. IMG_1675
Saturday Morning: Looking good here at the track this morning. Some practicing going on, racers signing up etc. Good to see some old friends, TLR gang, OBR, Bartolone, Animal and more and more to come.
 Mid Day: Racing has started and the motors are blaring! Uploading some photos now!
Afternoon: On our 4th race of the day here. Good times by all that's for sure. Races are over 30 minutes long so to just finish can be a battle.
4:30: Race is over. Points are being totaled, results coming soon.
[smugmug url="http://photos.tgndistributing.com/hack/feed.mg?Type=gallery&Data=31972239_nLv5N5&format=rss200″ title="Team%20Chase%20Points Series%20Live%20Feed%20By%20LSN" imagecount="200″ start="1″ num="90″ thumbsize="Ti" link="lightbox" captions="false" sort="true" window="false" smugmug="false" size="M"]