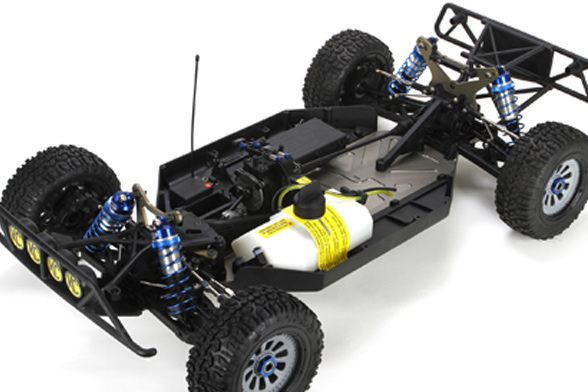 Losi Racing 5IVE-T Roller – LOSB0024
Well well look what Losi is showing off today. This is a very welcomed surprise for many I am sure. This is the Losi 5IVE-T 4WD Short Course Roller Chassis. This is just like the popular BND version but without motor and radio gear and also with a clear body. This is a great idea and this will appeal to many 1/5 racers and bashers. This new model is sure to please.
Details below. Get more info on the Losi website HERE.
Get yours on order now at TGN!
Bigger. Faster. Stronger. Customizable. The 1/5-scale Losi 5IVE-T 4WD Off-Road Racing Truck Roller is the closest thing to a full-size vehicle in realism, performance, experience and customization. This version of the 5IVE-T includes all the components that have made the 5IVE-T iconic with the exception of electronics and an engine. This is the ideal vehicle for drivers who prefer to choose their own destiny by choosing their own engine, servos, and radio equipment.
LARGE-BORE SHOCKS WITH 7MM SHAFTS & THREADED ADJUSTERS
5MM CHASSIS WITH CNC MACHINING FOR STRENGTH AND LESS WEIGHT
ADJUSTABLE BIAS DUAL-DISK BRAKING SYSTEM
A FULLY ADJUSTABLE SERVO SAVER
EXTRA-LARGE 800CC FUEL TANK
THREE TUNABLE SEALED VISCOUS DIFFERENTIALS
MULTI-PIECE BEAD LOCK OFF-ROAD WHEELS
IMPACT ABSORBING BUMPERS
INNOVATIVE SEALED CLUTCH MOUNT WITH COOLING FINS
CV DRIVESHAFTS USED THROUGHUT