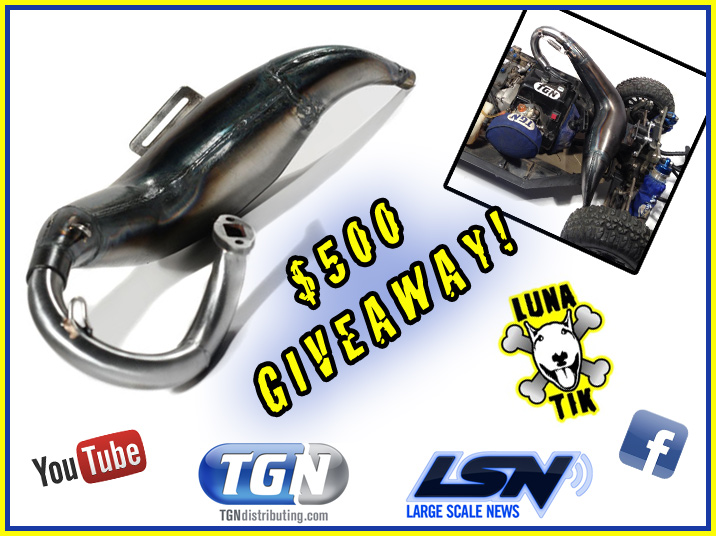 Luntik and TGN $500 Media Giveaway Contest
TGN and Lunatik have teamed up to giveaway $500 in gift certificates for the TGN website. You can win two ways, share and like the Lunatik giveaway post on TGN & LSN facebook or to WIN BIG you can share your youtube video on our facebook of you running and showing off your Losi 5IVE-T Lunatik Rabid pipe. It's simple…get out that phone and start shooting! Don't have a Losi Rabid pipe? Buy one at a one time super low price at the link below and you could win more than the cost of your purchase!
$300 TGN Gift Certificate for one grand prize winner
Get a Lunatik Rabid Losi pipe at a SUPER low one time price or use your own.
Like and Share our facebook post about this contest on the TGN facebook page.
Like and Share our facebook post about this contest on the LSN facebook page.
Make a youtube video of you using, reviewing and just plain showing off your Losi 5IVE-T Rabid pipe.
Share that video on your facebook and post it on the TGN facebook page.
Optional: Extra points will be given to those who get the most views on their video, the quality of the video, your social media reach etc. Videos must be uploaded after July 1st.
$100 TGN Gift Certificates for two people
Optional: Post and share your past videos or even pictures you may have of your LunaTik Losi pipe and post them to the TGN Facebook page.
10 FREE TGN T-Shirts
TGN Shirts will be given out to those who SHARE and LIKE the TGN and LSN facebook posts about this contest.
Winners will be chosen August 31st. We reserve the right to modify this page as needed. We suggest you return here for more updates and suggestions on how to increase your chances of winning.